Mexican Shrimp Cocktail $12.99
Firecracker Shrimp (8)* $10.99
Butterflied shrimp tossed with our sweet and spicy sauce with a kick
Circle M Protein Plate $19.99
Smoked brisket, green onion sausage, grilled chicken, and boiled shrimp.  Served with jalapeño pimento cheese, BBQ sauce, mustard, cocktail sauce, and crostinis.
Gator Bites $12.99
Fried Pickles $8.99
Fried Mushrooms $7.99
Crab Bites $7.99
Cajun Cheese Curds $8.99
Sampler* $12.99
Fried pickles, fried mushrooms, crab bites, & cajun cheese curds
Swamp Wings $10.99
Frog legs, firecracker sauce
Fried Oyster Nachos $12.99
Chips N' Queso $7.99
Double Dip $9.99
Chips, salsa, and queso
Spicy Green Beans $8.99
Boudin Balls (3)* $9.99
Boudin Egg Rolls (3)* $9.99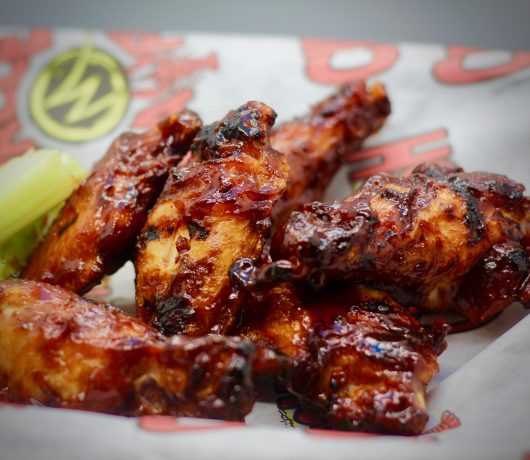 Oysters on the Half Shell
1/2 dozen - Market Price
Choice of Dressing: Bleu Cheese • Caesar • Honey Mustard • Jalapeño Vinaigrette • Ranch
Grilled Chicken Salad $12.99
Fresh greens, grilled chicken, cherry tomatoes, and shredded cheddar cheese
Fried chicken available upon request $12.99
Texas Cobb Salad $14.99
Fresh greens, cherry tomatoes, red onion, avocado slices, roasted corn, and jalapeños.
Choice of chicken or steak
All freshly hand-pattied burgers and sandwiches are served with french fries.
Circle M Signature Burger
Choice of cheese: American, cheddar or pepper jack
Choice of veggies: Lettuce, tomatoes, onions and pickles $10.99 Add: Bacon + $1.99
Smokey Nashville Hot Chicken Sandwich
Hand battered chicken breast deep fried and tossed in our smokey homemade Nashville hot sauce.  Served on a buttery Texas toast with spicy coleslaw and pickles $13.99
Western Bacon Burger
Beef burger, bacon, cheddar, grilled onions and BBQ sauce $14.99 Add: Brisket + $3
Fried Shrimp or Fish Po'Boy
Toasted New Orleans french bread topped with six large shrimp or fried fish, lettuce, tomato and our spicy cajun homemade remoulade sauce $14.99
Texas Cheese Steak
Grilled steak, grilled onions, bell peppers, mushrooms, topped with queso on a hoagie bun $14.99
Prime Tender Cuts*
Your choice cut, grilled to perfection, served with house-made potato casserole or fries, corn on the cob and a roll
Choose From
Sirloin | 8 ounces - Market Price
Ribeye* | 14 oz  - Market Price
Add: Grilled Shrimp (3) + $4.99 or Grilled Mushrooms + $2.99
Surf and Turf*
8 oz Sirloin with six large grilled shrimp with choice of two sides and a fried roll - MarketPrice
Circle M's Cover-The-Plate Chicken Fried Steak
Circle M's hand breaded chicken fried steak served with two sides and a roll $15.99
Served with french fries
Fried Fish $6.99
Chicken Nuggets $6.99
Corn Dog $5.99
Grilled Cheese $6.99
Cheese Quesadillas $5.99
Cheeseburger $6.99
Mac & Cheese $5.99
Gator Sausage $5.99
Crawfish Sausage $5.99
Boudin Link $5.99
French Fries $2.99
Smothered with queso and bacon $7.99
Boiled Red Potatoes (4) $1.99
Boiled Mushrooms 1/2 lb $3.99
Green Beans $3.99
Side Salad $4.99
Loaded Mac & Cheese $6.99
Corn on the Cob (2) $1.99
Baked Potato Casserole $3.99
House Made Slaw $1.99
Hush Puppies (4) $1.99
Fried Okra $6.99
Fried Roll (ea) $0.99
Sunday House Made Michelada Special
available on Sundays only!  2 beers, 6 jumbo grilled shrimp, bacon, cherry tomatoes, cucumbers, and a crispy celery stick
Domestic $18.99 | Premium $19.99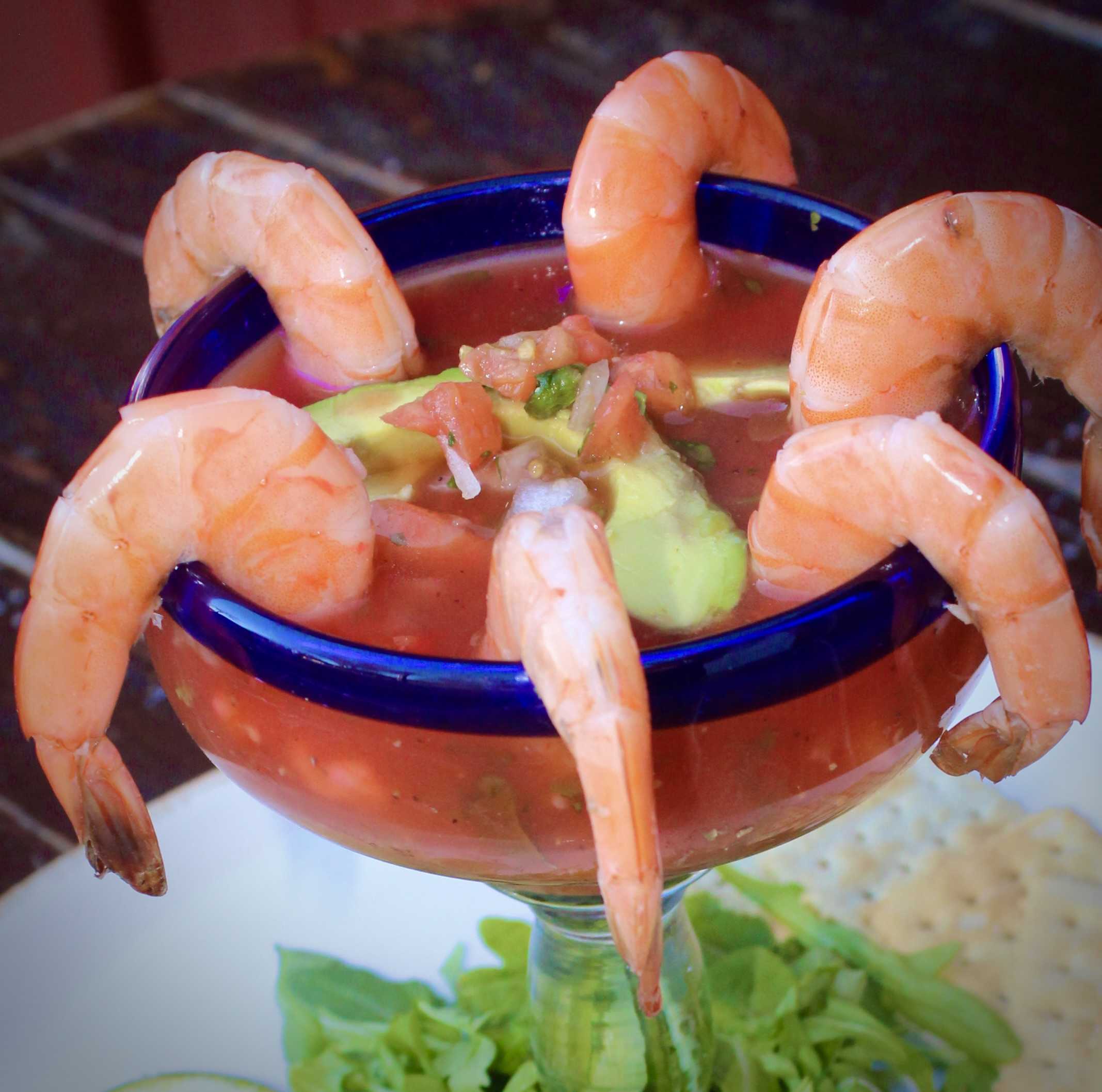 Bone-in or Boneless
Served with 4 crunchy celery sticks and your choice of ranch or bleu cheese dressing
12 Jumbo Wings w/ 2 sauces $18.99 • 6 Jumbo Wings w/ 1 sauce $10.99
Add Fries $1.99
Dry Rubs & Sauces
Firecracker* | sweet and spicy sauce topped off with red pepper flakes
Buffalo* | traditional classic Buffalo sauce
Smokey Nashville | homemade Nashville hot sauce
Lemon Pepper | zesty lemon, cracked black pepper blend, served with a lemon wedge
Spicy Thai | sweet and spicy Asian sauce topped with sesame seeds
BBQ | bold, smoky, rich sauce with a touch of sweetness
Garlic Parm | savory garlic and buttery parmesan
Hell Fire* | the hottest wings in East Texas.  You be the judge!
Dry Rub | classic cajun seasoned dry rub with the perfect amount of heat
Smoked Brisket Tacos $9.99
2 tacos served on flour tortillas with pickled red onions and a side of a smoky BBQ sauce
Steak Street Tacos $9.99
3 tacos served on corn tortillas with your choice of seasoned marinated skirt steak or marinated chicken, onions, fresh cilantro and fire roasted salsa
Shrimp or Fish Tacos $9.99
2 tacos served on flour tortillas, grilled or fried, with your choice of shrimp or fish, with house-made spicy coleslaw
Quesadillas 
Your choice of marinated skirt steak, grilled chicken, brisket or shrimp served in a grilled flour tortilla with melted cheese and grilled onions
Cheese $12.99 • Brisket, Steak, or Chicken $13.99 • Shrimp $14.99
Grilled Stuffed Avocados $14.99
Fresh avocados topped with choice of chicken, steak or shrimp, queso cheese, and fresh pico de gallo served with mac & cheese or Spanish rice
Nachos $13.99
Served with your choice of skirt steak, blackened shrimp or blackened chicken
Traditional Gumbo
Made from scratch with green onion sausage and chicken, served over rice $10.99
Etouffée
A Big Easy favorite! Served over your choice of chicken or fish (fried or grilled).  Served with two sides and a roll $15.99
Jambalaya
Made from scratch with green onion sausage and chicken tossed in a spicy tomato sauce with rice, onions, and bell peppers $11.99
Southern Shrimp Grits
Jalapeño cheddar cheese grits, blackened shrimp and a fried roll $15.99
Louisiana Blackened Dinner
Prepared on a flat grill with chicken, fish or shrimp, in lightly spicy seasonings, served with two sides and a roll $14.99
Sausage & Pepper Platter
Our cajun green onion sausage served over grilled red potatoes, onions and green bell peppers $14.99
Add Crawfish Sausage $3 • Add Alligator Sausage $3
Side Choices
Red Potatoes • Mashed Potatoes • Potato Casserole (+ $1.00) • Slaw • Spicy Slaw • Corn on the Cob • Green Beans • Friend Okra
Served with red potatoes & corn on the cob
Boiled Crawfish* (SEASONAL) Market Price
Boiled Shrimp* 
1/2 lb $11.99 • 1 lb $18.99
Snow Crab Market Price
Cajun Boiled Seafood Platter* (SEASONAL)
1 lb Crawfish, 1/2 lb Shrimp, & 1 lb Snow Crab Market Price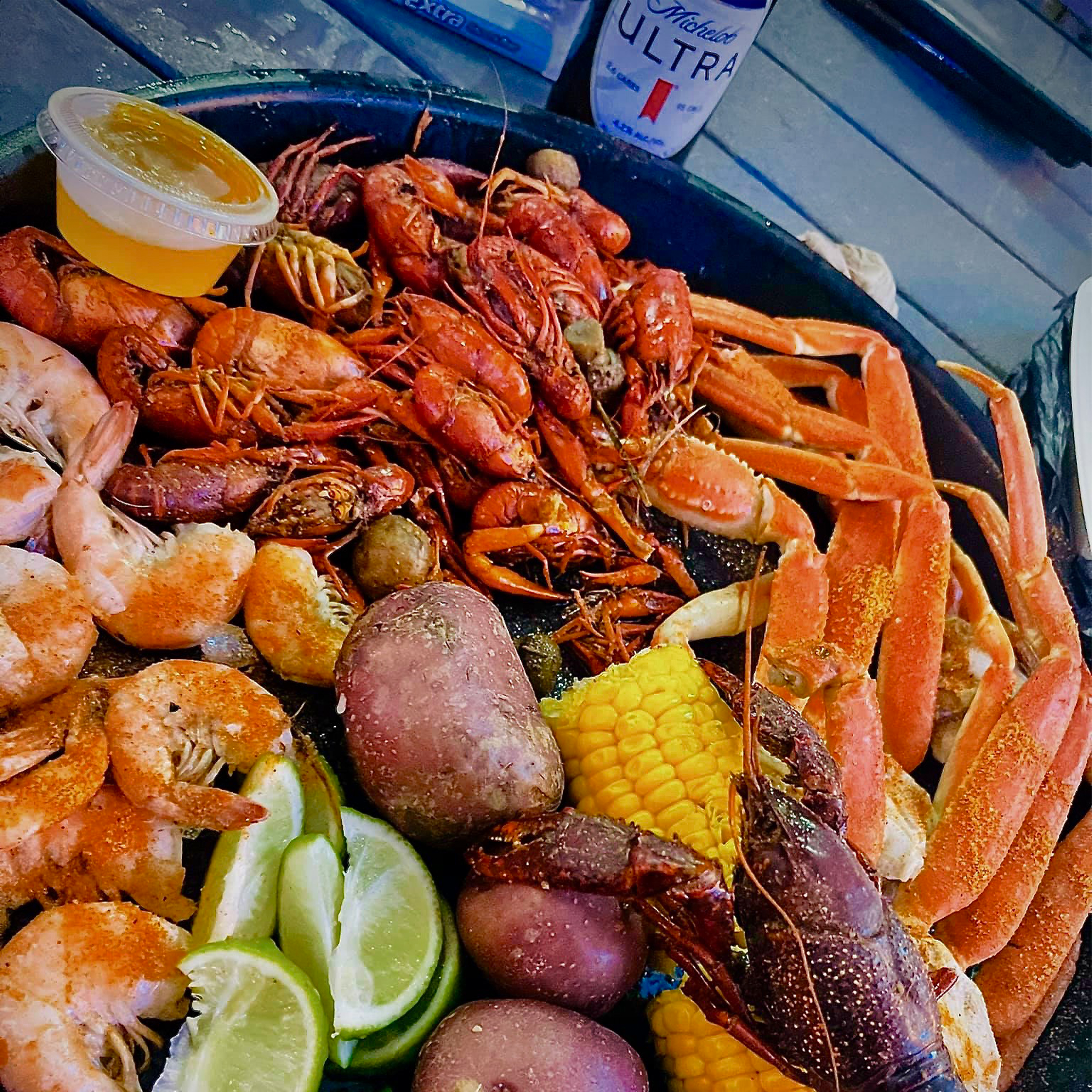 All fried baskets are served with fries, coleslaw and hushpuppies
Fried Catfish*
Three fillets $12.99 • Five Fillers $17.99
Frog Legs
Three pairs $16.99
Fried Chicken Tenders
Three large tenders $10.99
Five large tenders $15.99
Shrimp
Fried Shrimp (6) $10.99
Fried Shrimp (12) $16.99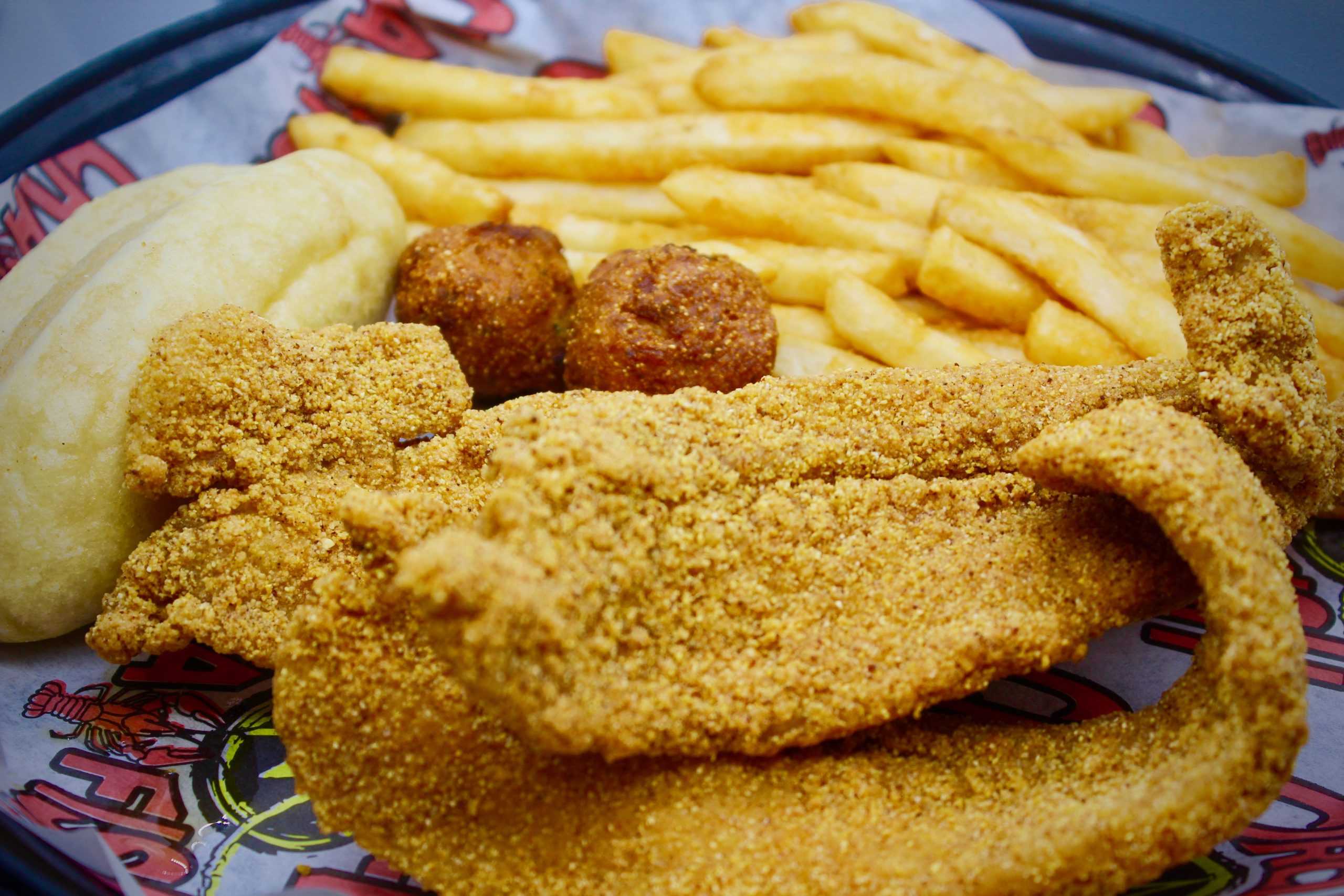 Served with fries, slaw and hushpuppies
Fried Catfish & Shrimp
Served with fries, slaw and hushpuppies. Make it grilled + $1.00
• 2 Catfish, 6 Shrimp $14.99
• 2 Catfish, 12 Shrimp $19.99
Chocolate Lava Cake*
Sprinkled with powdered sugar, drizzled with caramel sauce and topped with vanilla ice cream $9.99
Kid's Ice Cream
Vanilla ice cream, chocolate sauce and sprinkles $4.99
Homemade Peach Cobbler
Served a la mode with vanilla ice cream $7.99
Mini Melts Ice Cream
Ask your server about our seasonal flavors $4.99
Bread Pudding
Bourbon sauce $8.99